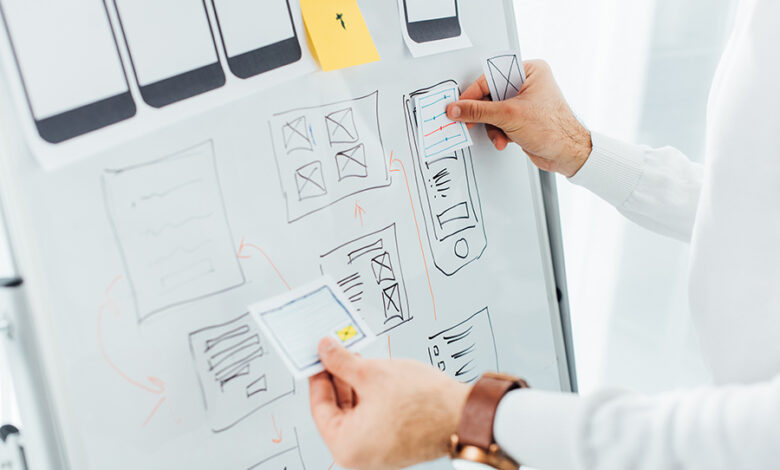 5 No-Code Development Platforms
Want to build a web app or mobile app without knowing code? And without having to rely on costly developers? No-code development platforms provide a visual coding environment in which you can use drag-and-drop components and other features to build and customize apps. It makes software development possible for non-programmers.
But there are many no-code platforms out there. Which one should you use? To make your choice easier, we've selected five no-code development platforms taking into account their features, usability, support, and other factors. Discover them now.
1. Webflow
Webflow is a popular no-code development platform for websites. With it, you can create mobile-friendly websites and customize them through an intuitive and accessible drag-and-drop creator.
You can use it to build almost any type of website, from simple business sites to advanced e-commerce online stores. It's beginner-friendly while also providing plenty of features to appeal to more experienced web developers. Over 3,500,000 designers and teams are using Webflow.
Key features
Supports custom coding for more customization options
Integrated maintenance and hosting help you accelerate the release date
Intuitive visual website creator
Templates and other graphic elements make getting started easier
Flexible integrations
Pricing
Site and e-commerce plans for developing a website start at $12 a month. Account plans for building multiple websites and exporting code are also available, including a team plan at $35 a month per user.
2. Quickbase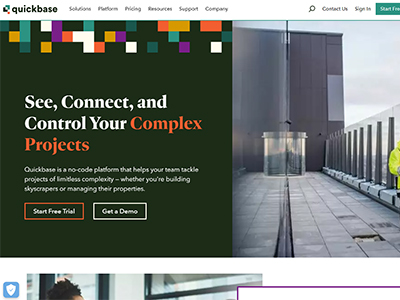 Quickbase is a rapid application development platform that makes it easy to bring together business data, workflows, and processes. With Quickbase, you can build and deploy secure apps that you can use across any device that can connect to the internet. It's a leading choice among Fortune 50 companies.
Key features
Intuitive no-code app development environment makes it easy to turn your ideas into usable apps
Web app templates help you get started
Workflow automation helps you save time and work more efficiently
Branding options make your apps feel like they are truly your own
Pricing
Free trial available after which you can opt for one of the three different pricing plans. You'll have to request a quote for pricing.
3. Appy Pie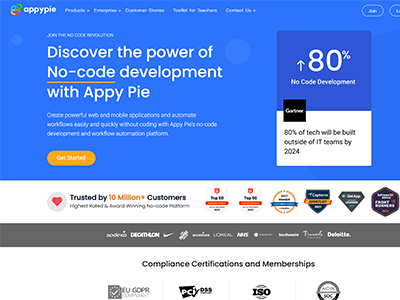 Don't let the funny name deceive you. Apple Pie is a powerful no-code platform with a ton of features. It's also scalable and comes with automation features that can save you time. With it, you can create attractive websites, chatbots, mobile apps, and more.
Key features
App development automation lets you build a simple app in minutes
Intuitive design makes it easy to use
Strong task automation features boost your productivity
Connects hundreds of apps for free
Pricing
Lets you create a free app, but for more features, you need to upgrade to a paid plan which starts at $18 a month. Note: For iOS support, you need to upgrade to the Platinum plan.
4. Bubble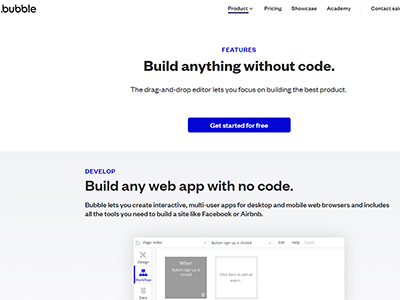 With Bubble, you and your team can build dynamic web apps that run on mobile browsers without knowing any code. Highly customizable for an app of its kind, Bubble also makes deploying the apps you build quick and provides useful prototyping features. Over 1,400,000 users are part of the Bubble community.
Key features
Rich customization options give you control over projects
Simple to use drag and drop editor
Makes prototyping quick and affordable
User-friendly design means it's convenient for non-technical teams
Pricing
Bubble offers a free plan with limited functionality. Paid plans start at $25 a month per user.
5. Kintone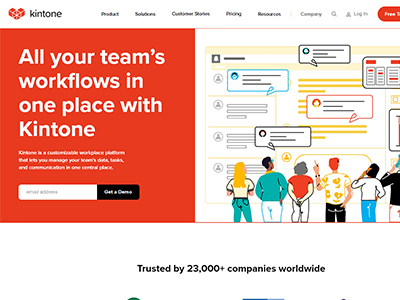 With Kintone you can create not only apps but also databases and workflows using clicks rather than code. It comes with automation features, it's customizable, and can scale apps according to your needs. You'll also like its collaborative tools.
Key features
Extensive collaborative tools make it a valuable team tool
Automation tools optimize development
Polished user experience makes it easy to use
Versatile no-code development platform for web apps
Pricing
Free trial available after which you need to upgrade to a subscription. Subscriptions start at $15 a month per user for a nonprofit organization.
No-Code Development Platforms – The Wrap Up
No-code development platforms can add value to your business. With their many features, easy-to-use interfaces, and scalable pricing plans, they have a lot to offer. Compare your options and test different apps to find the right one for you.
No-Code Development Platforms – Additional Resources