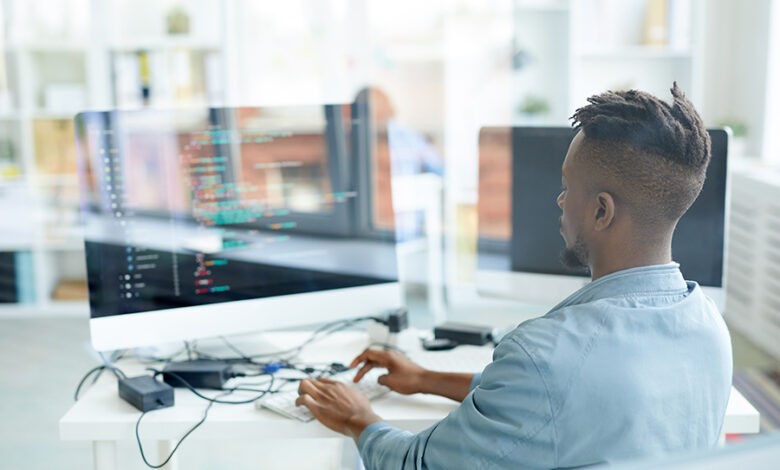 5 Useful Low-Code Development Platforms
Low-code development platforms provide developers with a faster, simpler, and more effective way to code and deploy the software they create. They do this through a visual interface that enables automating tasks and minimizing repetitive processes. Low-code platforms target primarily developers and require some amount of technical experience.
If you are looking for a low-code development platform, you've come to the right place. Here are 5 useful low-code development platforms you can choose right now. We include information about their features, pricing model, and more.
1. Visual LANSA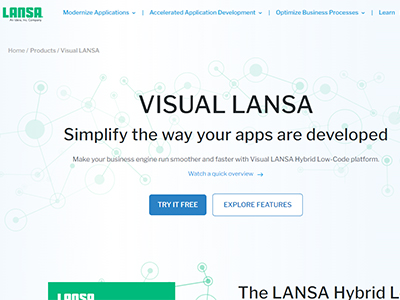 Visual LANSA features a powerful low-code visual software development environment through which you can build apps for the web, mobile, and desktop. It caters to small, medium, and large businesses. Used by thousands of companies worldwide, it speeds up the development of apps for the web, mobile devices, and Windows, Linux, and IBM i servers. You can also use Visual LANSA to build internal applications for intranets.
Key features
Powerful and intuitive low-code integrated development environment (IDE)
Quick app development process
Easy to get used to
Lets you write code in the IDE if you need
Advanced testing and deployment features
Pricing
Free trial available after which you can choose between three different pricing tiers starting at $8.34 a month per user for enterprise solutions.
2. Quixy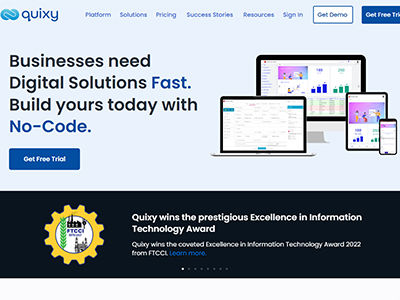 Quixy is a feature-rich no-code development platform you can use to automate software development workflows for web apps and mobile apps. With it, you can start app building from scratch or customize one of the pre-made apps in the Quixy app store. Overall, the platform is easy to work with and provides enough features to appeal not only to small businesses but also to medium-sized companies and enterprises.
Key features
Accessible visual builder makes you build software using different workflows
Drag-and-drop editor with form fields features over 40 widgets
Integrates well with third-party applications
One-click app deployment
Offline mode works on any browser and device
Certified for enterprise use
Pricing
Free trial available after which you can choose from multiple pricing plans starting at $10 a month per user (for at least 10 users).
3. Appian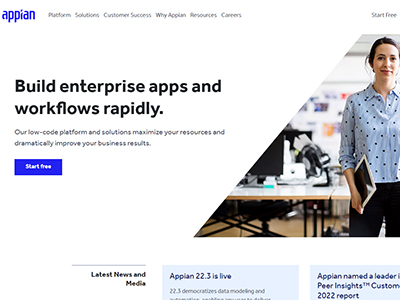 Appian provides a low code app development environment that simplifies automation. It promises to get apps to market up to 20 times faster while cutting back costs compared to traditional app development. Appian supports many different types of apps including web apps, Windows, Mac, and Linux programs, and more.
Key features
Simple and powerful drag-and-drop app development interface
Robotic process automation can boost productivity
Scalable development tool lets you build and deploy apps that range from the simple to the complex
Business process management features
Case management makes collaborative work and exception handling easier
Native AI services
Pricing
Free trial after which standard plan costs $90 a month per user.
4. Creatio
Creatio brings together low-code development with process management features. It comes with an intelligent visual creation platform that supports both structured and unstructured workflows. It also has its own marketplace where you can get ready-made apps.
Features
App wizard makes the process of building apps faster and more convenient
Makes low-code automation easy
Integrates machine learning and AI tools for analytics and more
Visual interface that is appealing and easy to work with
Built-in security features make it a reliable collaborative tool for low-code app development
Pricing
Free 14-day trial available after which pricing starts at $25 a month per user.
5. Retool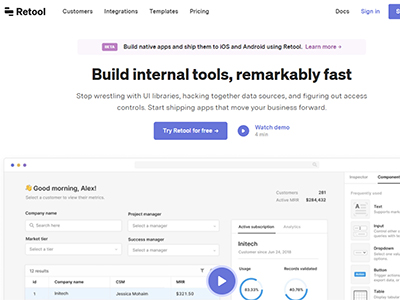 Retool is a low-code platform that enables the development of internal applications. It's highly customizable as it allows you to switch to code when you need to. It also works with any API or database. It's used by teams around the world, in companies as large as Amazon.
Features
Over 50 drag-and-drop components help you build internal software faster
Lets you write JavaScript to customize your app
Works in the cloud as well as a self-hosted solution
Strong security features including audit logs and access controls
Pricing
Free plan with no creator restrictions available for developers. Team plan starts at $10 a month per user.
Low-Code Development Platforms – The Wrap Up
Choosing the right low-code development platform for you boils down to the features you need. All the top platforms we reviewed provide rich features and make low code development easy. You can try out several platforms before making up your mind about which to choose.
Low-Code Development Platforms – Additional Resources